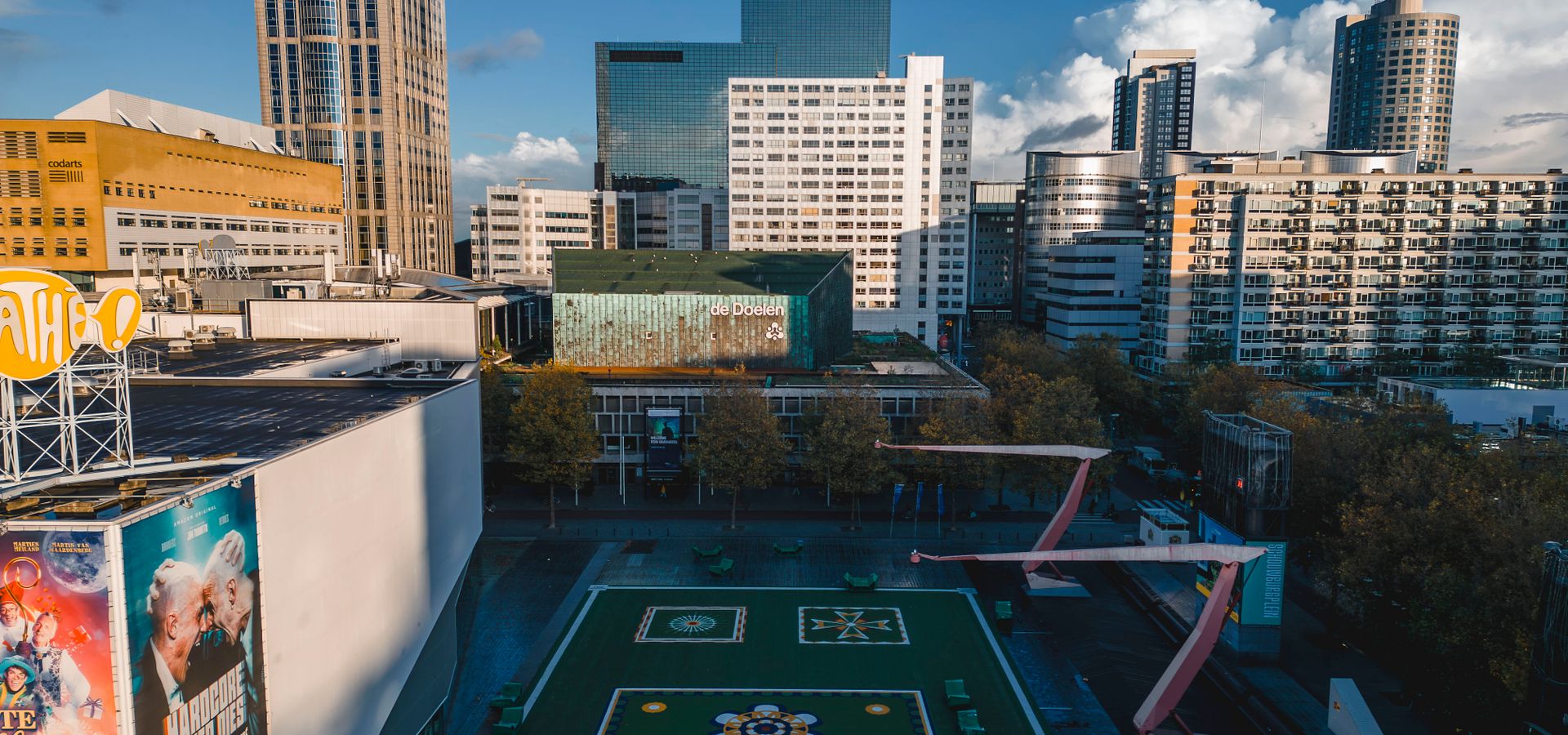 visit us
Below you will find everything you need to know for your visit to concert hall de Doelen!
To be the international, cultural and business heart for all Rotterdammers. De Doelen wants to connect with and reflect the city by presenting live music and facilitating gatherings.
Click on the button and read all about the organization!
We are open to visitors and can be reached by telephone from Monday to Friday between 2 and 6 pm at 010 - 217 17 17. Except on public holidays.
When we are in conversation, you can dial a 2 at any time. We will call you back as soon as an employee is available.

If you have a question about concerts by the Rotterdam Philharmonic Orchestra, please call 010 - 322 53 22.
View our agenda for the openings hours from de Doelen.
opening hours of the Doelen Studio
Monday & Tuesday: watch the current program
Wednesday: 1pm - 6pm
Thursday: 1pm - 11pm
Friday: 4pm - 11pm
Saturday: 4pm - 11pm
Sunday: 1pm - 6pm


De Doelen is located in the very heart of Rotterdam, a short walk (400 meters) from Rotterdam Central Station, tram, metro and bus stops. There are also several parking garages in the vicinity of the Doelen.
access to concert halls 
Great Hall: Schouwburgplein 50 
Jurriaan Hall: Kruisplein 30 
Willem Burger Hall: Kruisplein 40 
Eduard Flipse Hall: Karel Doormanstraat 223 
To complete your evening with a dinner and/or overnight stay, you will find a number of tips on this page. At the bottom of the food and drink page under 'nearby' you will find more information about hotel stays around the Doelen.
Click the button!
You can order tickets through our website. If you prefer direct contact with one of our employees, please call Tickets & Service.
opening hours Tickets & Service
To buy tickets online, you need to create a personal account. After that, payments can be made by credit card (Visa or MasterCard) or iDeal. It is not necessary to print an e-ticket – you can show the ticket on a smartphone upon entry.
on arrival 
For concerts, we ask everyone to keep their tickets at hand. 
break potion 
At many concerts, a drink (coffee, tea, soda, beer or wine) is included in the ticket. This arrangement does not apply to concerts by external organizers such as Hanson's Sunday morning concerts. If a drink is included, it will be stated on the ticket.  
toilets 
There are toilets on every floor of De Doelen. The toilets on the 2nd floor can also be reached by elevator.  
wardrobe 
The cloakrooms of all rooms are located on the first floor. 
lift 
There are 3 public elevators in the building. These are wheelchair accessible. 
earplugs
Is the noise in the halls bothering you? Then ask one of our public employees for earplugs.
assistance dogs
If you depend on an official service dog, it is very welcome. Do you want to inform us in advance that you are visiting a concert with an assistance dog?
wheelchair accessibility 
All halls of De Doelen are accessible to wheelchair and walker users. There are sufficient wheelchair spaces in each room. Wheelchairs are available for those with walking difficulties. Please indicate when ordering if you want to borrow a wheelchair. You can reach the hall with a walker. During the concert, the rollator will be placed in the hallway by an audience member. 
accessible halls 
Our meeting rooms are located on the first, second and third floors. Each floor is accessible by elevator. Access to the Grote Zaal, Jurriaanse Zaal and Eduard Flipse Zaal with wheelchair, rollator is possible via the second floor. The Willem Burger Hal is accessible from the main entrance. 
For more information about accessibility in De Doelen? Visit our accessibility page (see below).
De Doelen is accessible to everyone. Are you looking for more information about the route, the elevator, room plans or do you have other questions? Look here for more information or contact us. 
The number of seats available and the division into ranks may differ per concert. If you order tickets online for a concert that has been booked, you will always see the correct floor plan when you select a seat.
Enjoy a cocktail in de Doelen Studio or have a bite to eat in De Stadbrasserie. Discover what the options and possibilities in and around de Doelen are on the page below.
Would you like to know more about concert and venue information, facilities and accessibility? Then click on the link below:
Would you like more information about the house rules of De Doelen? Then click on the link below: