May 2019
Spring is in the air! Nature is in full bloom and so is de Doelen in the month of May. We are bursting at our seams with an incredibly varied programme for you to take in.
Check this booklet for music, talks, food, fun and festivals. With Classical:NEXT, Operadagen, Rotterdam Art Music, Rotterdam Philharmonic Orchestra and much more.
See you at de Doelen!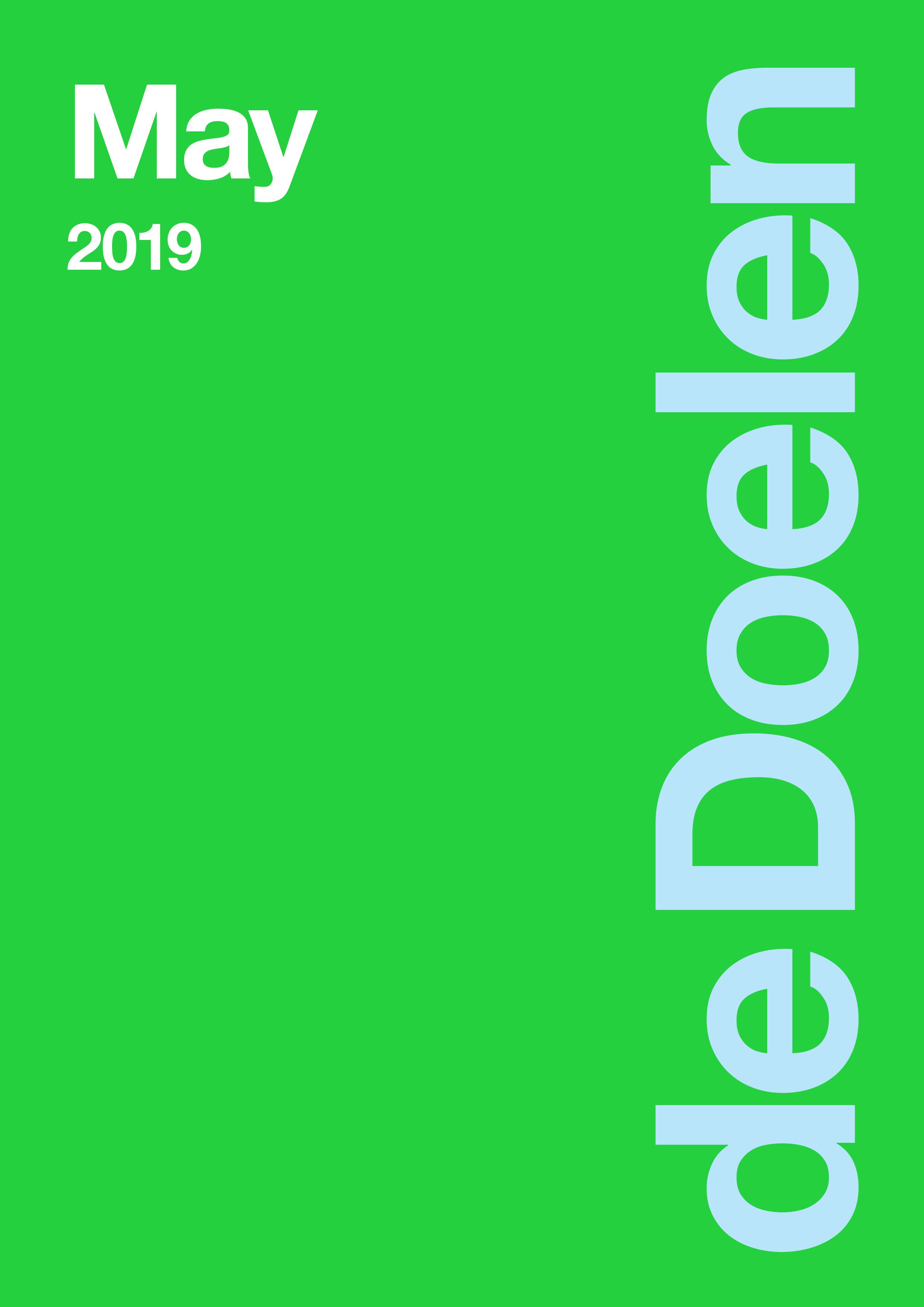 Highlights of the month
ROAM festival
14 – 18 May
Classical music of today: adventurous, innovative, and free from convention. Expect dazzling concerts, cross-overs, and state-of-the-art music. Spread across the city, with de Doelen as the pulsating heart of the ROAM festival.
www.dedoelen.nl/roam
Classical:NEXT
15 – 18 May
Classical:NEXT is a unique music convention that aims to unify the global art music scene, enabling it to work better together. Its focus is on innovation, increasing relevance and effectiveness in both business and creative aspects of the industry.
www.classicalnext.com
Operadagen Rotterdam
17 – 26 May
Operadagen Rotterdam is a worldwide opera and music theatre festival featuring contemporary, innovative, and ground-breaking productions by established international makers as well as young
and adventurous talent.
www.operadagenrotterdam.nl
Brochure 2019/2020
Visit de Doelen next season! You can now order tickets to all classical music concerts. Take a look at the 2019/2020 brochure.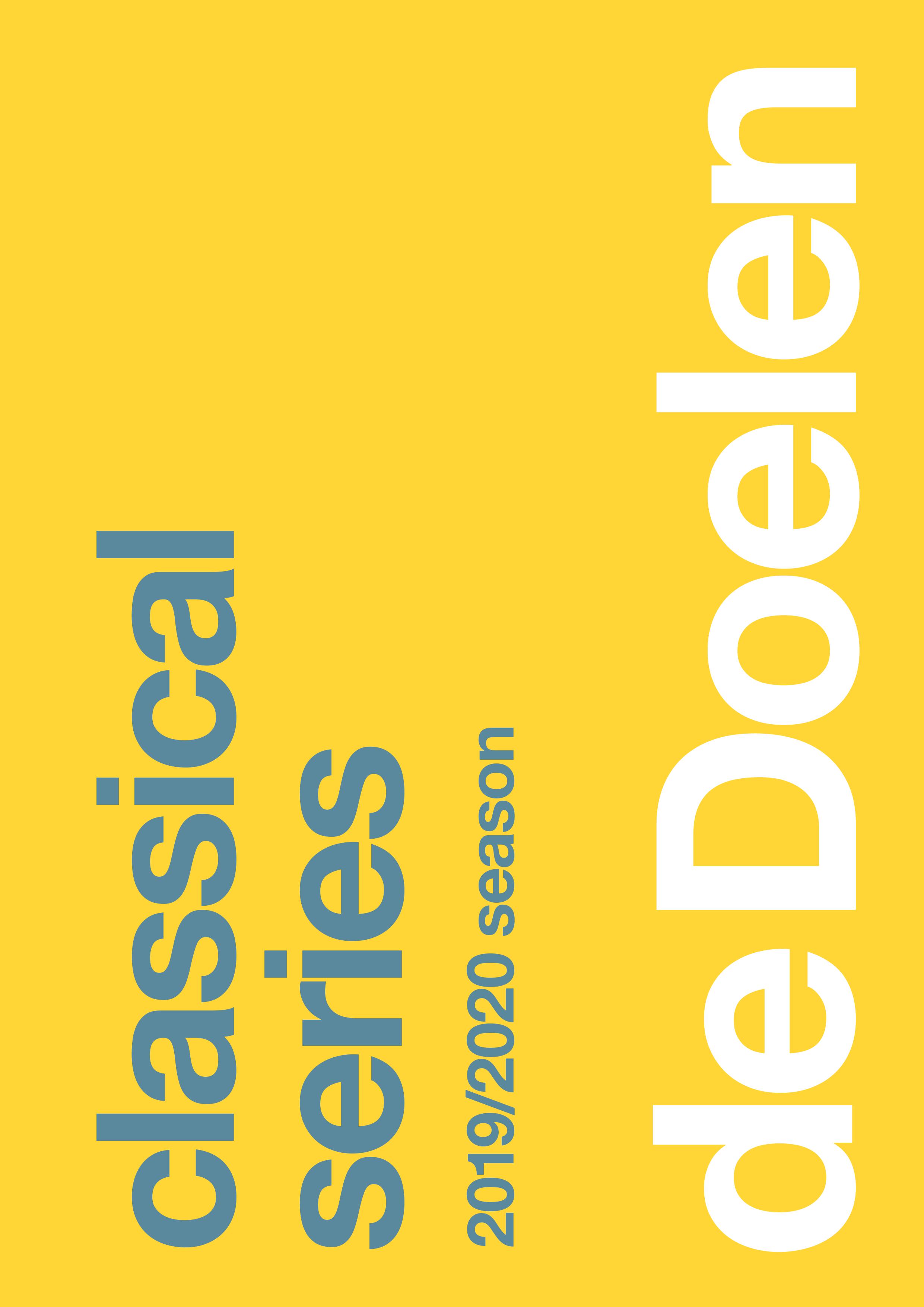 Where can you order?
Online: www.dedoelen.nl
Via telephone: +31 (0)10 217 17 17
At the box office: Schouwburgplein 50, Rotterdam
The box office is available via phone Monday through Saturday between 14.00 and 18.00.
Additionally, the box office and shop are open between 10.00 and 18.00 and 75 minutes before any concert.
About de Doelen
De Doelen is a world-renowned concert hall in Rotterdam where around 600 concerts are held annually. Its programming is extremely varied, ranging from true crowd-pullers to concerts catering to connoisseurs, and from children's concerts to performances of world music, making de Doelen a music centre for all audiences. It's no surprise, then, that it is Rotterdam's most visited centre for performing arts.
De Doelen also serves as a key venue in various international high-profile events, such as Classical:NEXT, Operadagen Rotterdam, International Film Festival Rotterdam, and the Gergiev Festival.
The monumental building is located at the heart of the city, just 200 metres from the Central Station. The history of de Doelen dates back to the seventeenth century, when an orchestra of local musicians gave public concerts in what was then called 'De Doele'. A new auditorium was opened in 1934, but was destroyed in the German bombing of Rotterdam in May 1940. The current Doelen building was not opened until 26 years later, in 1966. In 2000, new conference facilities were built on top of the roof and the old inner courtyard. The building is a listed monument and is considered a major symbol of Dutch reconstruction, giving it enormous cultural and historical value.