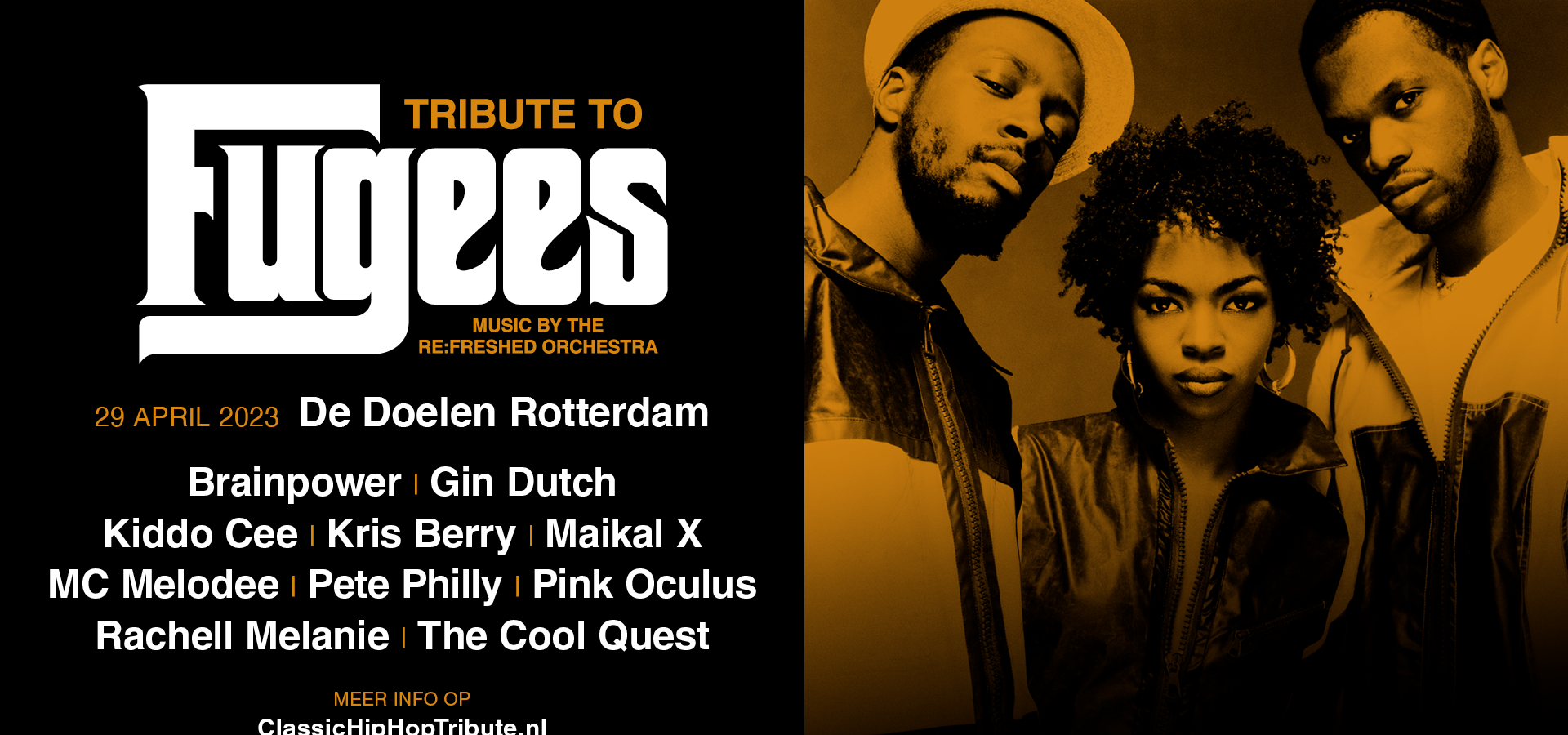 Hiphop in de Doelen met o.a. Brainpower en Pete Philly.
In 1992 richtten Lauryn Hill, Wyclef Jean en Pras Michel de groep The Fugees op. Dertig jaar later is de Amerikaanse groep die bekend werd met hits als "Ready or Not", "Fu-Gee-La" en "Killing me Softly with his Song" nog steeds enorm populair. 
Kaarten voor Tribute to The Fugees zijn vanaf vrijdag 23 december 2022 vanaf 10.00 uur te koop via de website van de Doelen.
Fugees  
Eind jaren '80 vonden Lauryn, Wyclef en Pras elkaar als tieners in New Jersey. Samen creëerde zij het eclectische sound van hiphop, reggae, soul en R&B. Met hun tweede album The Score (1996) had de groep een onverwacht megasucces en won de groep een Grammy. Nummers als "Ready or Not", "Fu-Gee-La" en "Killing me Softly With His Song" werden klassiekers. Met teksten over persoonlijke kwesties was de stijl van The Fugees vernieuwend en een tegenhanger van de populaire gangstarap.
De groep was schatplichtig aan voorgangers en gebruikte samples en covers van The Delfonix, Roberta Flack, A Tribe Called Quest, Enya, Kenny Rogers, The Moody Blues en zelfs Bob Marley. De Fugees hadden op hun beurt weer grote invloed op de pop en hiphop van de jaren negentig tot en met nu. De muziekstijl en het zwarte bewustzijn van de groep klinkt door in de muziek van bijvoorbeeld (Kan)Ye West, M.I.A., Black Eyed Peas, Kendrick Lamar, Drake en Beyonce. 
De groep ging in 1997 na vijf jaar uit elkaar. Met name Lauryn Hill was als solo artiest zeer succesvol met hits als "Doo Wop (That Thing)", "Ex-Factor" en "Everything is Everything", evenals Wyclef Jean met hits als "911", Gone Till November" en "Guantanamera".
Line-up
Brainpower
Gin Dutch
Giovanca 
Kenny B
Kiddo Cee
Mc Melodee
Pete Philly
Pink Oculus 
Rachell Melanie
The Cool Quest
Muziek door: The Re:Freshed Orchestra
 
Partners: Legacy of Music, SONY Music, Sublime, BRAL Podcast, Twist Agency, Paradox BV, het Concertgebouw
Voor- en napret!

Ter gelegenheid van deze Classic Hiphop Tribute to The Fugees, maakten de heren van de podcast BRAL. (Beats, Rhymes and Life)  deze één uur durende special over de legendarische groep.
Over de opmaat naar 'The Score', de hits én de afzonderlijke carrières. Opgenomen op het podium van Het Concertgebouw in Amsterdam.
Voor meer streaming opties én verdiepende insights over Fugees, check je de website van BRAL.