ROAM Night
a n adventurous voyage through boundary crossing classical music, performance, installation art, with Ragazze Quartet, Abel Selaocoe, Francesco Tristano  & more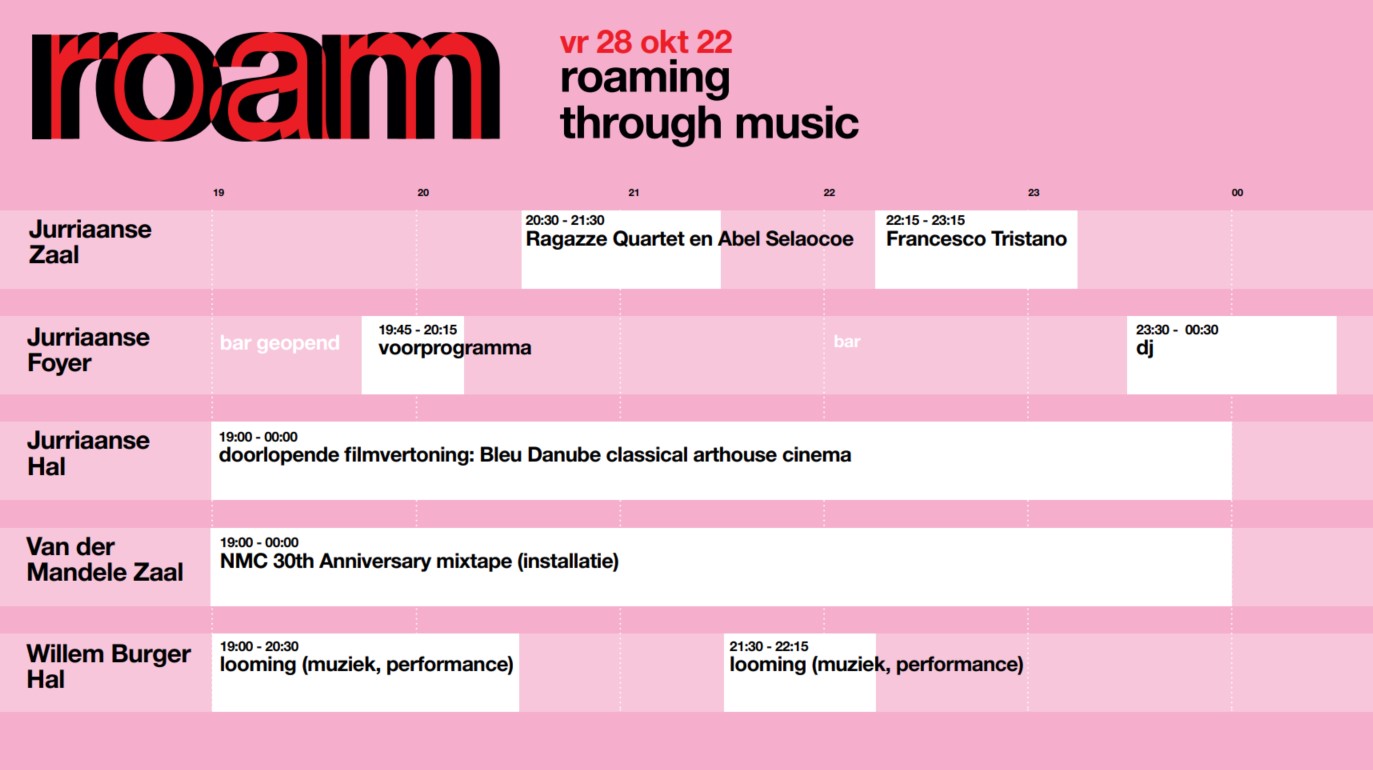 ROAM Night is a mini-festival in which you contemporary classical musicians cross boundaries. A full evening line up with surprising approaches and interdisciplinary collabs on the highest level Roam through de Doelen and be surprised what to find.
Musical encounters
Ragazze Quartet regularly delves into unique collaborations, but their project with Abel Selaocoe is a step into new territory. The South African cellist moves through all genres and effortlessly mixes Western and non-Western music.
  
Piano rebel
Remix, improvisation, re-interpretation, arranging, composing, performing: all part of pianist Francesco Tristano's toolbox. In his willful recitals, boundaries blur and familiar sounds transform into new worlds.  
Musical polymath
Chieko Ensemble is a young, multicultural collective, centered around cellist, singer and composer Chieko Donker Duyvis. The ensemble takes you on a fairytale-like sonic world with music from all directions. Accessible and fresh in their own compositions and adventurous improvisations, they merge classical music, jazz and Brasilian grooves in a unique way.
Dancing sculptures
Looming is a performance by visual artist Iris Woutera and pianist/composer Mink Steekelenburg (of Winterdagen fame). A portable, living sculpture of circling shapes moving with the music, in which you can move or immerse yourself like a meditation.  
Mixtape installation
For over 30 years, NMC Recordings (New Music Cassettes) released cassettes tapes, and later on CD's, with the newest British classical music. For their 30th anniversary, NMC released a cassette once again, which became a cult icon. Producer, electronic artist and DJ Beatricle Dillon was asked to dig into the NMC archives. She cut and pasted a special jubilee edition, made with fragments of old cassettes, from Benjamin Britten up to Anna Meredith. For the first time, this mixtape can be listened to as an installation during this ROAM Night.
Urban spirituality
Kems Kriol is a DJ dj, producer and multi-instrumentalist based in Rotterdam. His music is described as Cabo Verdan and Colombian styles with a modern electronic approach. His live sets and musical direction are inspired by his intimate experience with his spiritual identity, fatherhood and intergenerational heritage of the austere urban places in the Netherlands.
Classical music meets cult
Bleu Danube's video are little arthouse masterpieces. The three shorts selected for ROAM are best described as Bach / Hindemith / Leclair meets urban dance / Kill Bill / experimental documentary. This is the first time Bleu Danube is to be seen in the Netherlands.
Keep your eye on this page for the full line-up of this ROAM Night.  
credits
Ragazze Quartet | Abel Selaocoe cello | Remko Menting percussion
Francesco Tristano piano
Chieko Donker Duyvis Ensemble
Looming
Iris Woutera design | Mink Stitchelenburg composition / piano
Bleu Danube video