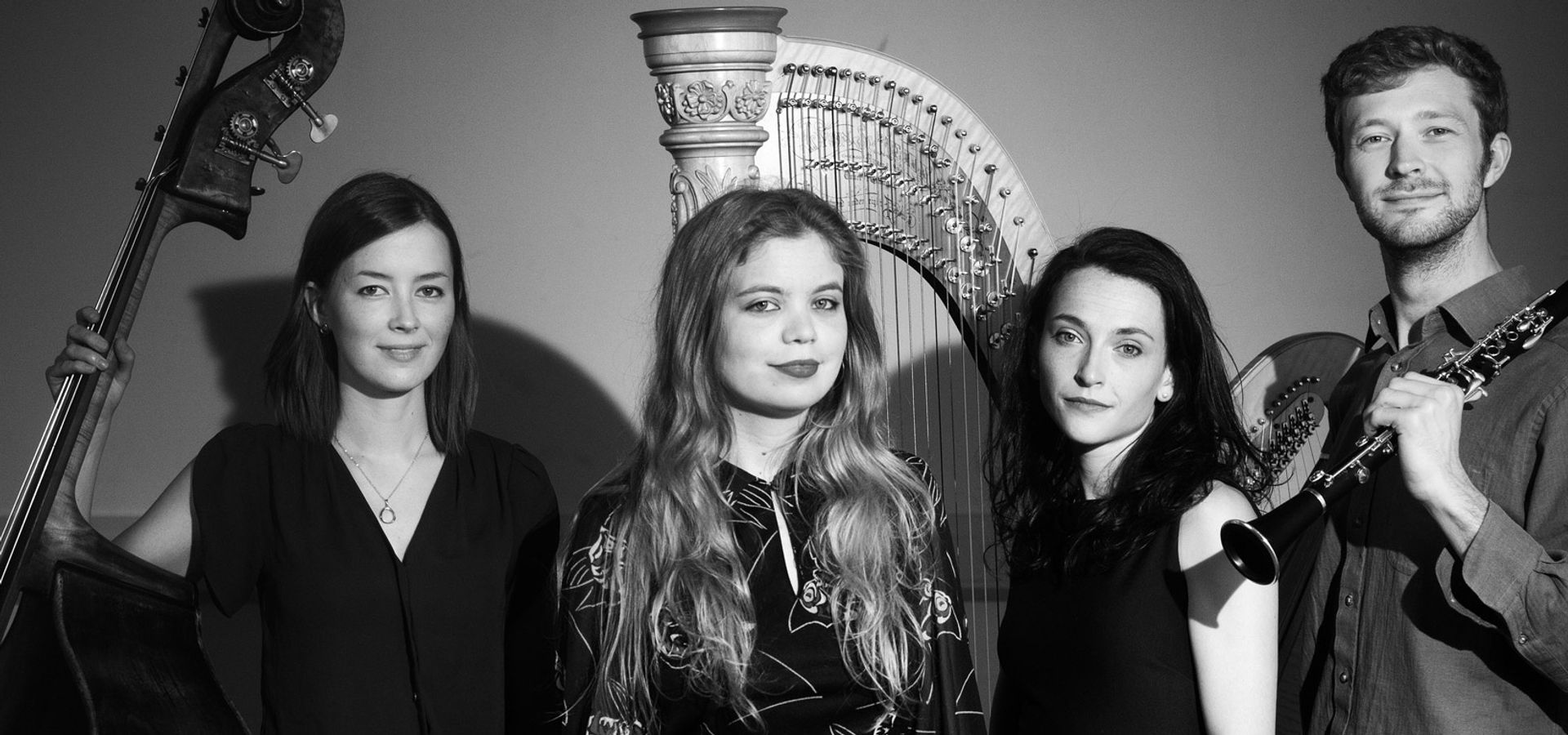 © Raphaël Neal
Red Sofa Young: klassiek? van nu
classical creators of today: The Hermes Experiment, Two Envelopes, Kluster5 & Jelmer de Moed
Anyone who looks at the latest generation of classically trained makers can only conclude one thing: boundaries are fading and boxes are disappearing. That's why classical with a question mark, because what does a label like 'classical' still say in this day and age? To answer that question, de Doelen programs Red Sofa Young twice a year, an evening in which young makers of today are central. Sometimes still rough, sometimes very beautiful, but always innovative and surprising. This edition The Hermes Experiment, Two Envelopes and Kluster5.
The Hermes Experiment is a rising British ensemble with an approach to programming that almost resembles a pop setlist. With harp, voice, clarinet and double bass they edit anything and everything, weave together old and new, they play electronically and acoustically and they have already released quite a few exciting and successful albums.
Two Envelopes was formed in 2015 by harpsichordist Lisa Kokwenda Schweiger and percussionist Jacob Vanneste. Together they provide adventurous and experimental combinations of, for example, performance or electronics with a classic core. Two Envelopes was ensemble in residence at Gaudeamus in 2022.
A 'visual album', that's how Kluster5 calls their latest concept entitled Perceived Reality. The groundbreaking album is a combination of film and music, of which they are showing one half this evening: the alienating and artistic fantasy world of composer Alexandre Kordzaia, set in the Georgia of his youth, just after the collapse of the Soviet Union.
credits
The Hermes Experiment
Anne Denholm harp | Oliver Pashley klarinet | Marianne Schofield contrabas | Heloise Werner sopraan

Two Envelopes
Lisa Kokwenda Schweiger klavecimbel | Jacob Vanneste percussie
Kluster5
Kluster5 concept en muziek | Alexandre Kordzaia compositie | Gijs Besseling regie | Frerik de Jong audio