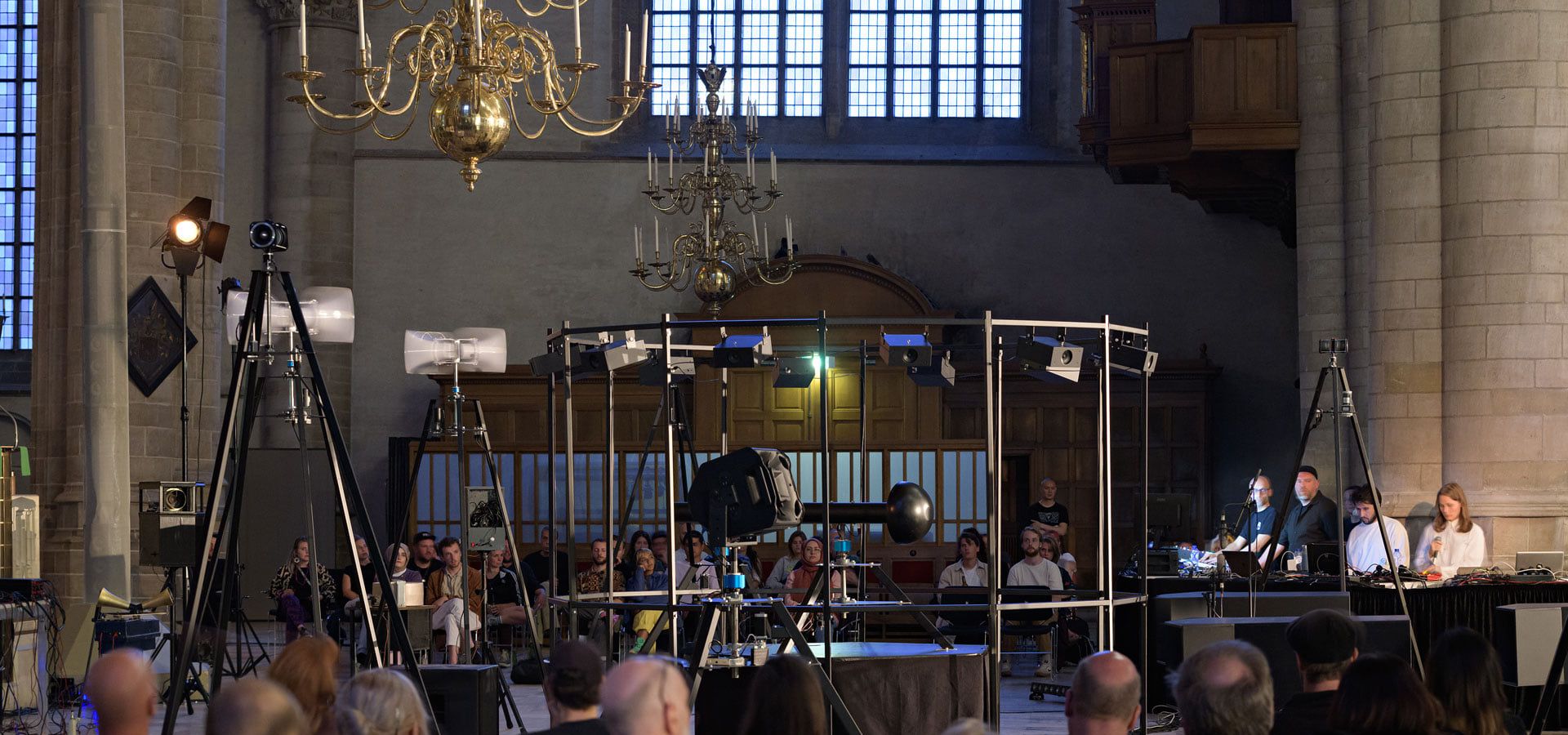 DoelenEnsemble, House of Makers & Klankvorm: Kinetic Sounds
Bridge between man and machine by Peter-Jan Wagemans and interdisciplinary arts foundation House of Makers
Screeching, crackling, hissing; alarms and rattles. Kinetic Sounds, an imposing sound installation by Rotterdam-based Klankvorm, seems at first to produce only anti-music. Yet the DoelenEnsemble makes an attempt to bridge the gap between music and the machine.
The Kinetic Sounds installation is a custom-made sound installation consisting of a collection of rotating sound sources that together create immersive and dynamic sound fields. The programme will consist of a selection of live performances and sound compositions created for the Kinetic Sounds installation. These commissioned works will be combined with other spatial modern classical compositions revolving around the themes of sound and movement. 
Klankvorm and DoelenEnsemble will present work by the following artists; BJ Nilsen, Aftab Darvishi, Robert Pravda & DoelenEnsemble, Sascha Dragićević, Anni Nöps, Peter-Jan Wagemans, Giulia Rae, Rene Uijlenhoet and Rotor. House of Makers, a Netherlands-based, interdisciplinary arts foundation specialising in performative work, will complete the event with their unique take on dramaturgy and light.
 

Kinetic Sounds is supported by Stimuleringsfonds Creatieve Industrie, Mondriaan Fund and Gemeente Rotterdam. Watch the video for a preview of the installation.
programme
including new work by Peter-Jan Wagemans
credits
DoelenEnsemble | Maarten van Veen conductor | Klankvorm concept and build Kinetic Sounds | House of Makers: Peter Leung | Brigitte van Hagen | Adriana Rio stage direction